~Nominated for the 2003 Vibe Award for best song of the year is "Threw it away" from their newest Cd " Welcome To The Real World"/
~Welcome To The Real World was nominated for the 2002 CGMA Covenant Music Awards for best rock album and best rock/alternative song.
~ 3rd Place win with 50+ different bands at the Durham College Band WarZ!
~And their best award yet would be knowing that they changed peoples lives with their music and will continue to do so as long as they are a band.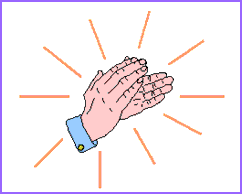 YAY! I FINALLY GOT THE HANDS TO CLAP! AM I GOOD OR WHAT. *BOWS!*